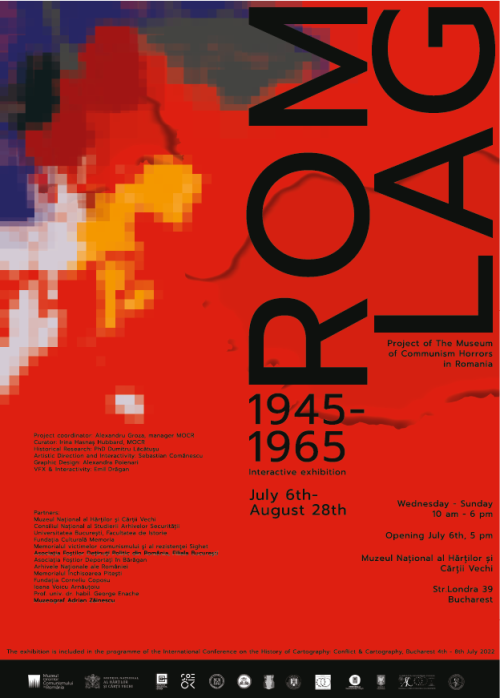 Expoziție temporară
The Museum of Communism Horrors in Romania (MOCR) and The National Museum of Maps and Old Books (MNHCV) organize their first project in partnership to offer the public a range of 20th-century maps and stories that have never been told before in an exhibition.
The exhibition is open between July 6th – August 28th 2022. 
Price ticket: 5 lei
The exhibition's theme of repression spreads in 5 main directions: Resistance, Riots, , Political Prisons, Deportation and Frontiers.
The facts and stories of the themes are told with maps, and additional documents, which give a bird's-eye view of Romania after WW2 under Soviet influence and the abolition of democratic laws and principles.
The most dramatic Communist epoch in Romania was during the first 20 years, 1945 – 1965, and MOCR has chosen this exhibition to show archive documents and scientific statements to give the visitors correct, accurate, and direct information about the communist regime.
Another premiere in this project is that, along with the facsimiled maps from the National Council for the Study of the Securitate's Archive, The National Archives, Memoria Cultural Foundation , and other associations and personalities, there will be an interactive projection that will allow the public to follow places, dates, and names in a more dynamic way and to get a more emotional approach to the large-scale drama that transformed the country into a gulag system.
The archival maps will be displayed for the first time, along with photos and documents in both in English and Romanian.
Project coordinator: Alexandru Groza, Manager MOCR
Curator: Irina Hasnaș Hubbard, MOCR
Historical Research: PhD Dumitru Lăcătușu
Artistic Direction and Interactivity: Sebastian Comănescu
Graphic Design: Alexandra Poienari
VFX & Interactivity: Emil Drăgan