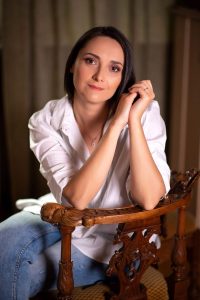 Maria Cristina Toma has been the manager of the National Museum of Maps and Old Books since December 2016. Mrs. Toma is a graduate of History and Art History at the Babeş-Bolyai University in Cluj Napoca and holds a master's degree in Art History at the same university.
Since 2004 Mrs. Toma has been working in the museum field, first as an education curator at the National Art Museum of Romania (NMAR), then as Head of Education, Communication, Cultural Projects and Marketing, and for a short time she was Acting Deputy Scientific Assistant at the same museum.
Mrs. Toma is a trainer in the National Institute for Cultural Research and Training (www.culturadata.ro) and mentor in projects such as "Support culture in education" (www.culturaineducatie.ro), which aim at forming a consistent link between education and culture.
At NMAR Mrs. Toma coordinated various museum projects such as "Balkan Modernism" – 2009 (assistant manager within an European project), "Testimonies – frescoes from Curtea de Argeş" (AFCN project coordinator) – 2012 or the "Anatomy of Restoration" – 2016 (co-curator).
Mrs. Toma held various scholarships for study abroad under the Erasmus Program (Italy), Getty Leadership Program (in the US, in leadership and cultural management) etc.
Mrs. Toma speaks fluently three international languages: English, Italian and French.
Mrs. Toma believes that the contemporary museum should be equally interested in protecting the heritage, studying it and opening it to the public. Mrs. Toma believes in educational values of cultural heritage and sees it as an inexhaustible resource that should be taken into account in the act of education and learning.